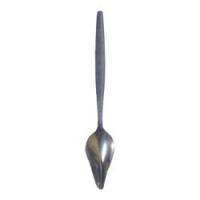 Feeding Spoon Small
$9.40
$10.80
Product Code: FeedingSpoonSmall
Product Code: FeedingSpoonSmall
Stainless steel, shaped feeding spoon Recommended for: Hand feeding baby birds.
Key features:
Professionally moulded spoon,
Designed specifically for good flow of food and control while feeding. Lifetime guaranteed.
Many people believe that a closer bond is built between bird and person using this method. Which makes sense due to the extend amounts of time you will be spending with the babies during feeding. Although time consuming, feeding spoons are very easy to use.
Proceed to Checkout
Freight: The cost of shipping, packaging, fuel and securities will be added to invoices where applicable.
We will reply to you as soon as possible with freight pricing